With the rise of podcasts and Alexa, voice search and audio content is on the rise.
Now many articles come with an audio version you can listen to and more and more creators are choosing to publish their content in audio format so folks can listen to it whilst engaging in other activities.
But saving this audio content is a time-consuming and tedious process.
In this tutorial, we will show you how you can download MP3 and just about any audio file type from any website at scale in a few minutes. No coding or complex software required.
If you haven't got a Hexomatic account, click here to sign up for a free account.
Step 1: Create a new workflow
To get started, create a new workflow from data input.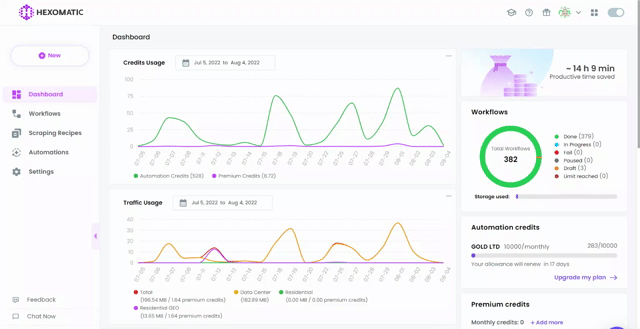 Step 2: Add web page URL
Next, add the web page URL you want to scrape using Manual paste/ List of inputs option.
Step 3: Add Files & documents finder automation
Next, add the Files & documents finder automation, selecting data input as the source. Specify the file type. In this case, we will insert .mp3 as file type in the Custom option field.

Select all file links as the links type.
Step 4: Add Files compressor automation
Add the Files compressor automation, selecting all file links as the source.
Then, click Continue.
Step 5 (Optional) Add Google Export/Sync automation
Optionally, you can add Google Export/Sync automation to export the scraped MP3 files to your Google Drive.
As soon as you've added the automation, you'll need to select all file links as the source, and specify the Google account you wish to transfer t. If you have an existing folder, select it, or create a new one.
Step 6: Run or schedule your workflow
You can now run your workflow or schedule it.
Step 7: View and save the results
Once the workflow has finished running you can view the results.
Results without running Google Drive (Export/Sync) automation
Here, we have all the scraped .mp3 file links on the page and a storage URL of the compressed links.
If you want to download all the scraped mp3 files, just click the storage links and it will automatically download a zip file with your scraped data.
Additionally, you can export the scraped data to Google Sheets.
Results with Google Drive (Export/Sync) automation
---
Automate & scale time-consuming tasks like never before
Marketing Specialist | Content Writer
Experienced in SaaS content writing, helps customers to automate time-consuming tasks and solve complex scraping cases with step-by-step tutorials and in depth-articles.
Follow me on Linkedin for more SaaS content