Etsy is the most famous platform where you can buy vintage and handmade crafts and gifts.
Over 60 million items are listed on Etsy, making it the largest marketplace in the category.
eCommerce retailers, marketers, and buyers can use Etsy data for product research, price monitoring, and more.
In particular, each item listed on Etsy has its rating and reviews from customers which can provide eCommerce marketers a ton of data for product research.
However, it's not easy to get Etsy reviews, ratings, or price data.
Firstly, the manual collection of reviews and ratings is time-consuming.
Secondly, Etsy takes measures to prevent scraping from its platform. You can't find an API to capture Etsy data. It has placed different anti-scraping tools like cookie tracking, IP blocking, tracking, and more.
Therefore, you need to utilize a best-in-class web scraping tool to get all the necessary data from Etsy.
Thankfully, Hexomatic allows you to scrape reviews, ratings, prices, and more from Etsy in a few clicks. No programming skills are required. All you need to do is copy the targeted URL and select the elements you need to scrape.
In this tutorial, we will cover how to easily scrape reviews from Etsy and run sentiment analysis to understand their tone and voice.
For Etsy sellers or product managers, this is ideal to get insights on what customers think of products and make improvements accordingly.

To get started, be sure to register for a free Hexomatic.com account.
Step 1: Create a new scraping recipe
To get started, create a blank scraping recipe.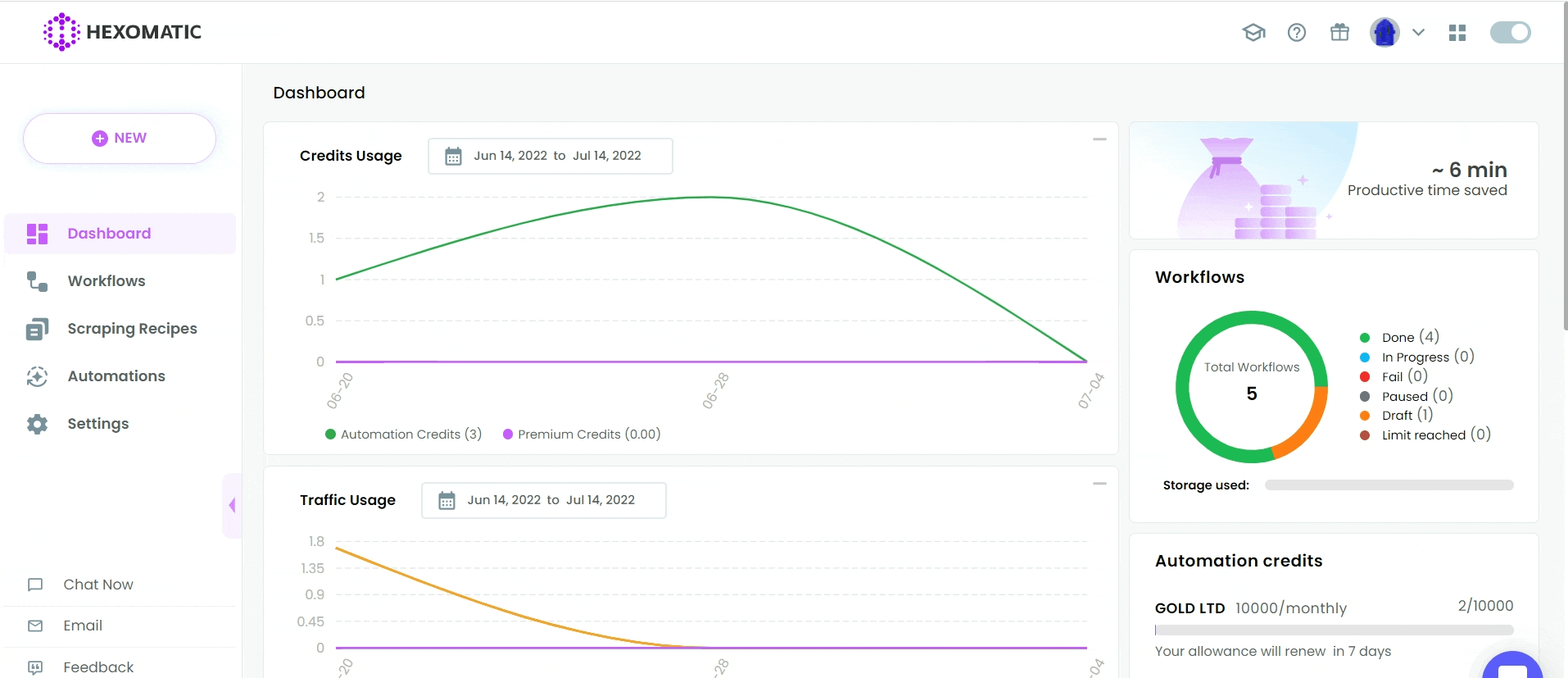 Step 2: Add the web page URL
Add the URL of the web page you want to scrape reviews from.
Step 3: Select elements to scrape
After the web page has loaded, you can select the elements to scrape. In this case, we will select all the product reviews on the page. To do that, select the first review and choose "the select all option" to select all the elements in the same category.
Then, save the recipe.
Step 4: Run the recipe in a workflow
To get the scraped data on your device or export it to Google Sheets, you need to run it in a workflow. Optionally, you can add one of 100+ Hexomatic automations to automate other tasks. For example, in this case, we will run a sentiment analysis to understand the tone and voice of the reviews.
To get started, you need to click on the recipe and use it in a workflow.
Step 5: Add the AI sentiment analysis automation
Add the AI sentiment analysis automation, selecting Reviews as the source, setting text as the source type and the language.
Then, click Continue.
Step 6: Run your workflow
Finally, you can run the workflow or schedule it for a more convenient time.
Step 7: View and save the results
Once the workflow has finished running, you can view the results and export them to CSV or Google Sheets.
---
Automate & scale time-consuming tasks like never before
Marketing Specialist | Content Writer
Experienced in SaaS content writing, helps customers to automate time-consuming tasks and solve complex scraping cases with step-by-step tutorials and in depth-articles.
Follow me on Linkedin for more SaaS content