Businesses must be able to adapt their strategies based on the type of prospects, customers, or companies they are dealing with.
The problem is that in most cases, companies acquire bulk lists of prospects, customers, listings, or affiliates without knowing where to begin building relationships with them.
Relationship building begins with a classification of prospects, customers, listings, companies, and affiliates. You can use this information to help you decide which strategy is best for your business and enhance the productivity of your collaboration.
This is especially important for cold email outreach strategies. Personalized emails give you a better chance of turning prospects into customers or making your customers use your products more frequently.
Classifying and categorizing any website is easier and more cost-effective if you use a website categorization tool that analyzes the data with the help of machine learning.
Hexomatic has a Website Categorization automation, which analyzes a webpage to determine what categories apply to the content discovered there in minutes.
It is ideal for classifying prospects, listings, and companies or finding any unwanted website categories. The supported language is English.
Here are several key applications of website categorization:
✅ If you have a list of clients or users, you can use our Website Categorization automation to categorize their websites. For example, whether your customers are agencies, publishers, bloggers, eCommerce stores, etc. This will help you send personalized emails for each category. For example, the emails sent to agencies should differ from the ones sent to eCommerce platforms.
✅ If you're a business and have a list of partners, affiliates, or influencers, you can use this to identify the category of websites they have. This will help you build a super personalized approach to each category.
✅ If you maintain any type of directory of websites, this automation helps you identify what category the websites are in so that you can classify these.
Let's take as an example the website https://www.amazon.com. It will be classified as " Shopping & Apparel.
In this tutorial, we will cover step-by-step how to use this automation to classify and categorize websites in bulk in just a few minutes.
Step 1: Create a new workflow
From your dashboard, create a new workflow from data input.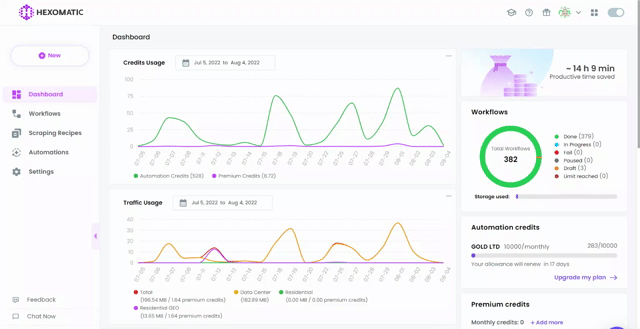 Step 2: Add the web page URLs
Add the webpage URLs using the Manual paste/ List of inputs option.
Step 3: Add the Website Categorization automation
Add the Website Categorization automation, selecting data input as the source.
Step 3: Run or schedule the workflow
Now, you can run your workflow to get the classification.
Step 4: View and Save the results
Once the workflow has finished running, you can view the results and export them to CSV or Google Sheets.
---
Automate & scale time-consuming tasks like never before
Marketing Specialist | Content Writer
Experienced in SaaS content writing, helps customers to automate time-consuming tasks and solve complex scraping cases with step-by-step tutorials and in depth-articles.
Follow me on Linkedin for more SaaS content